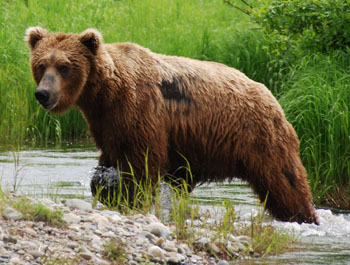 Russ, Gok, and I set out from Calgary, Alberta to King Salmon Alaska. The next day we would board a float plane which would take us to our final destination in Katmai National Park for 8 days of fly fishing.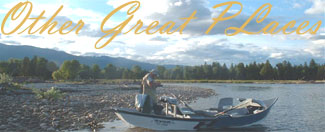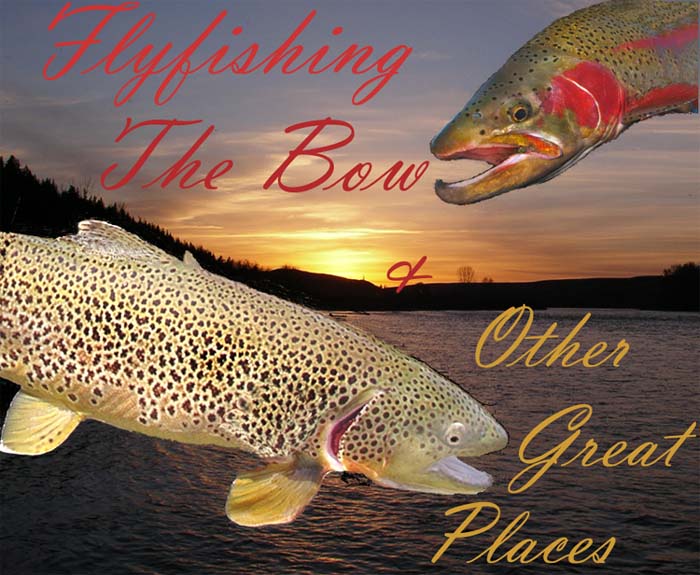 \
June 28th - July 6th - 2008
Waiting to fly out.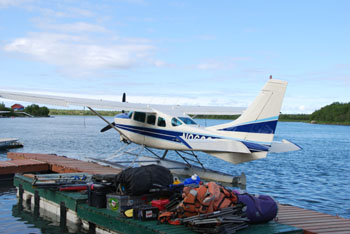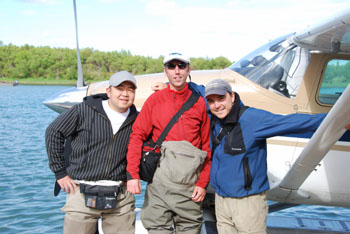 The Alagnak river on the way in.
Making the approach for landing.
Above King Salmon, AK with a view of the Naknek river.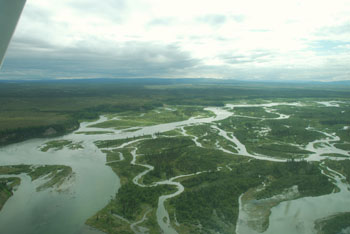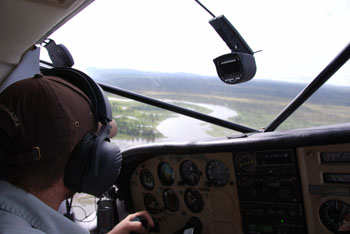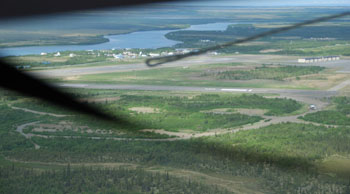 +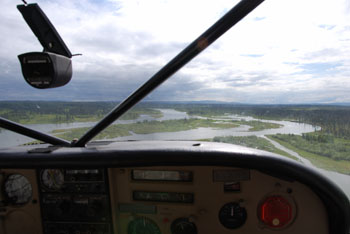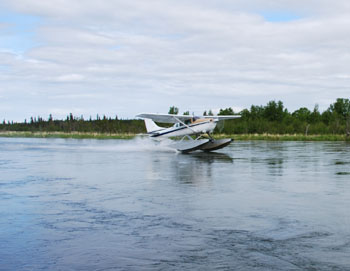 The plane taking off after dropping us off on the bank of the Alagnak River.
Once on the river we had about an hour jet boat ride up stream to Alaska Adventure's base camp.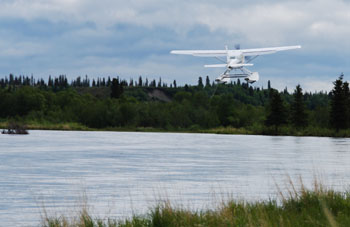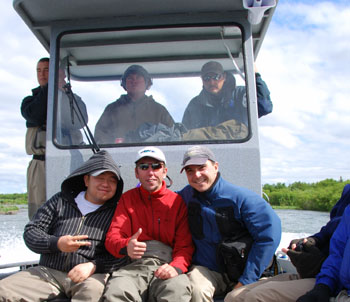 Alaska Adventure's base.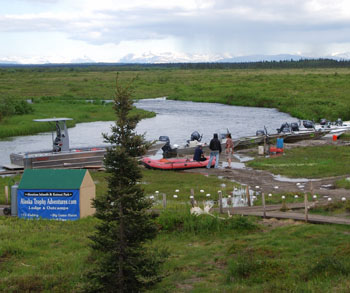 Once we arrived at the camp we found out from Alaska Adventures owner Charlie Summerville that we would not be able to fly out to our planned destination on the Cinder river to fly fish for King salmon because apparently there had been some unexpected rain and the river was blown out and muddy. To add to that the Alagnak river, which we were currently on, also did not yet have any salmon. The Sockeye salmon were expected to arrive in a couple of days but the chances for King salmon we were hoping for were slim to none.
The Alagnak is well known for it's trophy Leopard rainbows, we would endure.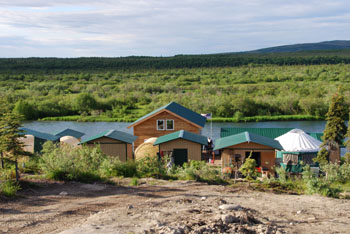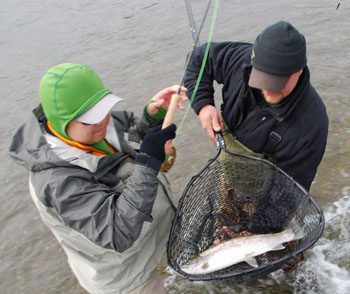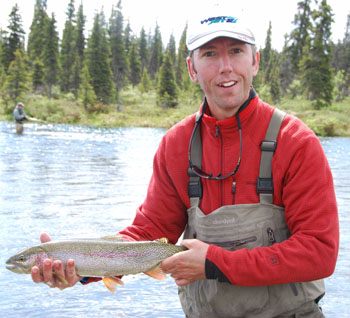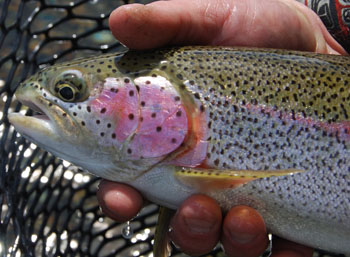 Russ with his first ever Lake Trout caught with a fly.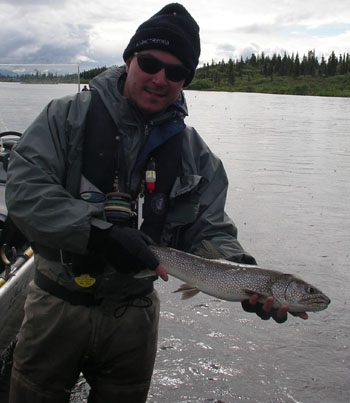 My first Grayling.
On the 2nd day we started out fishing for Rainbows again but our guide Moe thought something was up. He had a sense that the trout were acting a little skittish and not holding where they normally would. We hopped back into the jet boat and headed down stream. It wasn't long before we saw a Bald Eagle eating something on the bank and went to take a closer look.
Sockeye! Game on....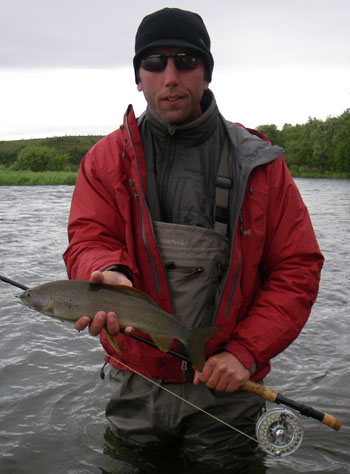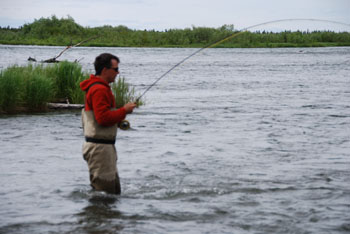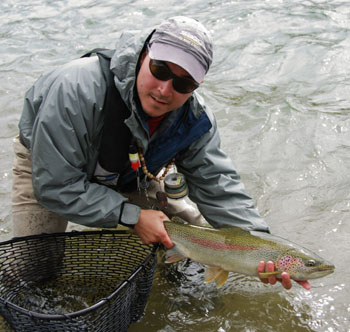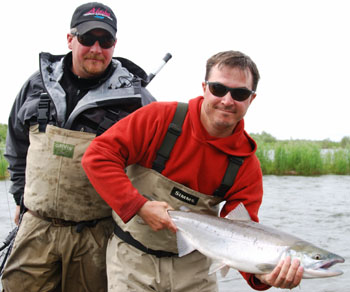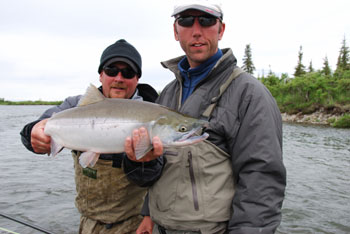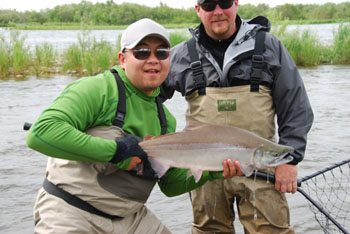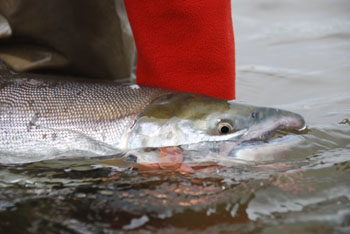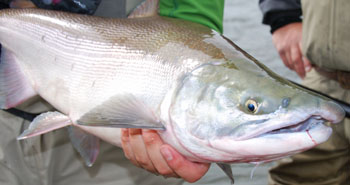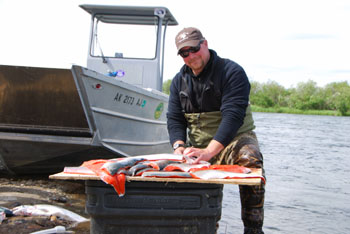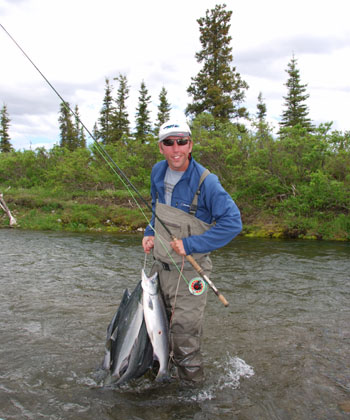 Even the bears hadn't seen the salmon this far up stream yet. Perhaps our first bear encounter was due to the smell of the stringer of Sockeye we had.
This bear came REALLY close, but since your not suppose to run the next best thing is to grab your camera: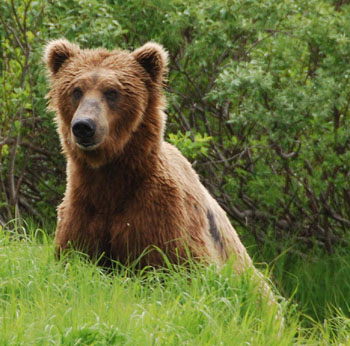 9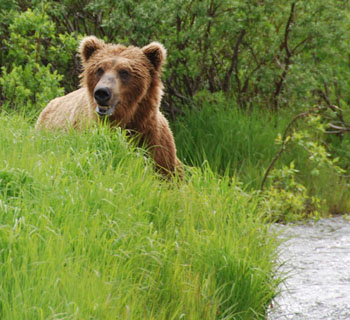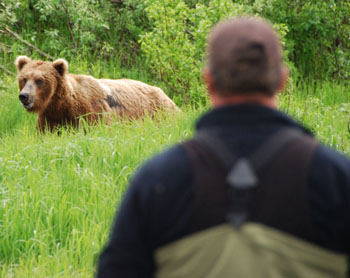 A couple of days later we went on a raft float trip. We had pulled over the inflatable raft and were fishing with our backs to the bank for about 30 minutes. When we turned around here was this bear sleeping behind us. He wasn't there when we first arrived.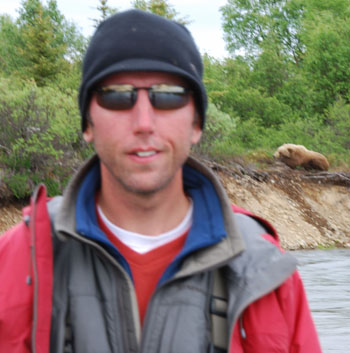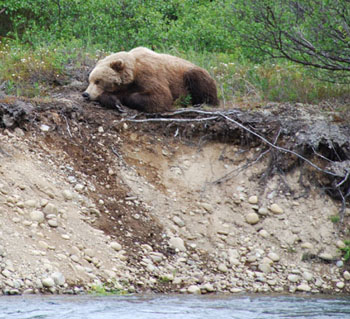 I guess I woke him up for this great close-up.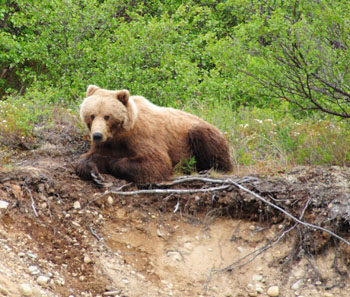 I guess he figured since he was up anyway he might as well go back to fishing too.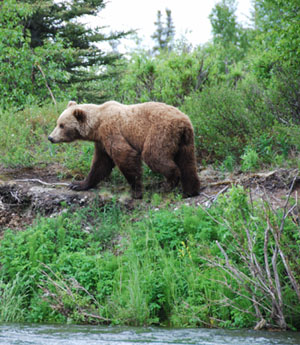 The "Lord of the Kings" asked us if we wanted to take a 2 hour jet boat ride down river to see if there may be some King salmon in yet. It would be our last day of fly fishing but we figured why not, if anyone could find King Salmon this hardcore guide of 12 years could.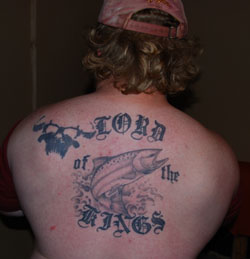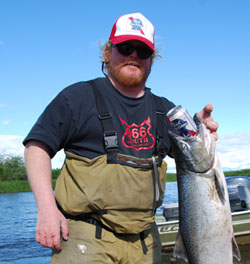 The news from the other guides on the lower river we saw was not good but after a long day of casting heavy sinking line and large weighted streamers Russ was able to hook into his first King Salmon.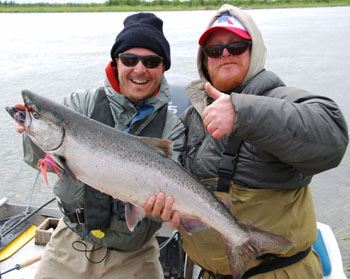 Not what we were planning for but it was a great trip regardless. Would I go there again? You bet!
The guides really made the trip, true professionals. It was a welcome treat compared to the mediocre guiding I've had in the past. If anyone is interested in an Alaskan adventure, contact Charlie Summerville -http://www.alaska-adventures.net